Le Buche Olivi
Le Buche Olivi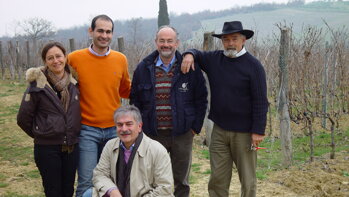 The Olivi family - A life committed to quality
For us this is how it started. We went to La Sovana (Le Buche) for a short break after our wedding and fell in love with the Olivi family, their land and for sure their products. Rarely you will find people which are as dedicated to quality and in love with what they do.
Genuine and natural wines, connected to the territory.
The philosophy of Giuseppe and Riccardo Olivi is to make genuine and natural wines, connected to the territory of origin and able to express its character. Terroir wines, made in the vineyard and not in the winery. Our team, led by expert agronomists Dr. Laura Bernini, dr. Andrea Paoletti and Prof. Daniel Schuster, makes a careful selection of the sprouts, a meticulous care of the foliage and a severe thinning of the bunches so that each plant produces less than 700-800 grams of grapes. The harvest is made only by hand in small cases; afterwards in the winery we make a double manual selection of grapes and berries. The examined grapes fall in the tanks by gravity where fermentation starts spontaneously without the addition of yeast. Our wines are the result of an extensive and constant work in the vineyard and a minimal intervention in the cellar, they are wines shaped by the hand of Nature, not technology.
DEFINITELY should you have time you should pay them a visit and we will gladly help you to get things arranged!
The Le Buche farm & La Sovana Agriturismo
The Olivi Family, a story of passion for wine and for the good land.
The rural story of the Olivi family begins in 1986, with the transformation of the "Sovana" farm into an agritourism establishment, where genuine hospitality is combined with local foods and wines.
Nestled in the hills of Siena in the heart of the land of the Etruscans, a land of great wines, where nature is still pristine and the rolling landscape is like a work of art, the Azienda Le Buche produces wine with a passion, in which technological innovation joins forces with the classical methods of Tuscan master grape growers. With the purchase of the Le Buche estate in 1996, Giuseppe and his son Riccardo developed a new grape growing and winemaking project, with the help of the agricultural and enological consultants Laura Bernini, Andrea Paoletti and Prof. Daniel Schuster.
Have a look at their video and get inspired.