Wine & Dine supplierBodegas e Vinedos Maurodos
Bodegas e Vinedos Maurodos - The cream from an excellent region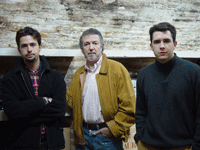 Maurodos is the story about one of the best wine makers in Spain that doesn't want to retire and his talented son
You can become good with determination but excellence only develops out of passion. In the case of Maurodos this passion came to the project through 2 men, father and son, sharing the same passion - simply making the best wines in Spain. They achieved their goal and the wines they touch are being praised far across the borders of Spain by now. Mariano Garcia Fernandez was the head wine maker in Vega Sicilia - probably the most established producer of superb quality wines in Spain - for many years before he took on the Maurodos project with his son Eduardo.
The project Bodegas y Vinedos Maurodos
Bodegas e Vinedos Maurodos is owned by Mauro. Mauro chose Toro to produce another highlight in Spanish red wines because of its potential for top quality full-bodied red wines. The climate is even more extreme than in Ribera del Duero, with very low rainfall. Winters are cold, which means the vines lie dormant, and can rest before the next growing season. The long hot summer ensures superb ripeness, with high levels of sugar and phenolics. As in Ribera del Duero, the key to quality is the cool nights, explained by the high altitude. These allow the vine to recuperate, stop them ripening too quickly, and preserve acidity, aroma and flavour in the grapes. Mauro have found vineyards with particularly good soils.
This project was developed over 4 years, as the Mauro team searched for the best vineyard sites, and experimented with fermentations of different batches of Toro grapes. By 1997, they had located their preferred vineyards, and perfected a style of winemaking suitable to these rich grapes. Only then did they go into production. 
Bodegas y Vinedos Maurodos owns 55 hectares in the villages of Villaester and San Roman de Hornija, planted mainly with Tinta de Toro, which comes from the same family as Tempranillo, but adapted to Toro over centuries. This adaptation has lead to smaller berries which in turn lead to deeper color and more intense aroma and structure than typical of Tempranillo from other regions.
The vines range in age up to 70 years old and are pruned to grow as bushes rather than on vertical trellises. On the vines the grapes hang low under a rounded canopy of leaves that protects them from scorching summer temperatures. This type of pruning concentrates the flavor of the grapes as it naturally limits the yield of grapes for each vine.
The men behind it
Mariano Garcia Fernandez
Mariano began his work as a winemaker in the mid 1960´s. He studied at the Madrid school of winemaking and viticulture and made his first vintage at Vega Sicilia in 1968. In the 1970´s he completed his oenological education by attending various courses and seminars. From 1980 he travelled regularly, visiting numerous wine regions around the world. He has been the adviser to the Mauro Group since its creation in 1980, and in 1998, he became the General Director and Winemaker of the company.
In 1994 he began experimenting with grapes from the Toro region, an area he knew well and had previously predicted a great future for. In 1996 he bought several vineyards in Toro and land on which to build a new winery. The first wine produced in Toro was the 1998 San Roman. As a winemaker, Mariano rigorously controls the yields, respecting the grapes and preserving the characteristics of the terroir and the variety, extracting fruit and mature tannins during the vinification, with the goal of obtaining full bodied, lengthy wines that are, at the same time, fine, elegant and complex.
Eduardo Garcia Montana
Since his father, Mariano retired from Vega Sicilia in 1998, he and Eduardo have collaborated on a number of noteworthy projects, including Bodegas Maurodos. In 2003 Eduardo established a new project at Maurodos, which he has named Prima. Together with his brother Alberto, Eduardo runs a new Ribera del Duero winery called Astrales, and a special project in Bierzo called Paixar, which focuses on the local native variety, Mencía.
Eduardo is passionate about the Castilla y León terroir and he prefers to create wines that are aromatic, balanced and elegant. His philosophy is to respect what the fruit has to offer and bring out the most of it in the wine making and aging process.
Hear some other voices...
"Even though the region has undergone long periods of neglect, today many of Spain's notable winemakers are investing in Toro. One of the hottest is Bodegas Mauro, begun by Mariano Garcia, the former winemaker of the famous Vega Sicilia winery in Ribera del Duero, and his sons Eduardo and Alberto. This producer has pedigree and is helping to bring Toro to the forefront of Spain's wine scene."
San Francisco Chronicle by Leslie Sbrocco (February 10, 2005)
"García is bigger than Ribera del Duero, says Victor de la Serna, a deputy editor at the Madrid daily newspaper, El Mundo, and one of Spain's leading wine authorities. 'Mariano is the great man of Spanish wine,' de la Serna says. 'He's the No. 1 winemaker in the country. A whole school of people have been mentored by Mariano.'"
Los Angeles Times by Corie Brown (July 11, 2007)
"With brawny, intense fruit, bold structure, and sweet tannins, Toro wines are easily among the most powerful reds from Spain. While Toros often seem similar to wines from the Ribera del Duero and Rioja, they're more hearty and extracted, set apart by earthy, mineral, cassis, eucalyptus, and tar notes that underscore their unique, broad-shouldered character."
Eduardo Garcia Old Vines, Young Children
The World of Fine Wine by Chris Fleming (Issue 27)